tmg awarded the prestigious, highest supplier score from Terpel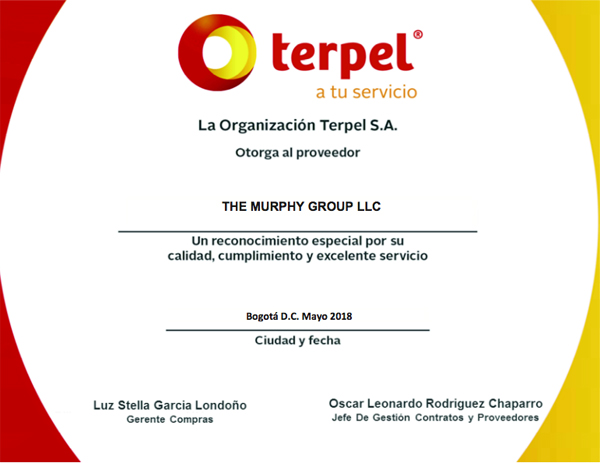 Para Organización Terpel S.A. es un gusto informarles que se realizó la evaluación anual de desempeño del año 2017 y su empresa THE MURPHY GROUP LLC obtuvo una calificación de 100 puntos, este resultado los categoriza como un proveedor EXCELENTE, lo que indica que cumple satisfactoriamente los requisitos para asegurar la calidad de nuestros servicios.

Por lo anterior, le invitamos a continuar trabajando conjuntamente con la disposición y eficiencia que al día de hoy ha demostrado.

Agradecemos su gentil atención.

Dear TMG Consultancy:

For Organización Terpel S.A. It is a pleasure to inform you that the annual performance evaluation was done in 2017 and your company THE MURPHY GROUP LLC obtained a score of 100 points, this result categorizes them as an EXCELLENT supplier, which indicates that it satisfactorily fulfills the requirements to ensure quality of our services.

Therefore, we invite you to continue working together with the disposition and efficiency that today has demonstrated.

We appreciate your kind attention.