Jeff Murphy
Founder and Managing Director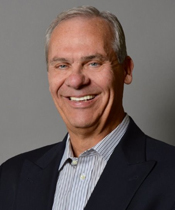 Jeff Murphy is the Founder and Managing Director of tmg Consultancy LLC. tmg is a global management consulting firm focused on advising global fuel/convenience retailers and suppliers. tmg has been selected as the NACS Latin America Relationship Partner which is a tribute to their regional knowledge, experience and expertise.

tmg is celebrating its 20th year in 2020 with offices in metro Washington DC and Florida.

tmg provides advisory services in several areas including: 1) Profitable Growth; 2) Strategy Development and 3) Innovation. tmg's portfolio of global retailer/supplier projects/clients include: Copec/Pronto Chile; Terpel Colombia, Panama; Puma LatAm; Primax/Listo, Peru, Ecuador; Axion/Spot Café Argentina; PetroBras Brazil; ExxonMobil USA; Shell USA; PetroChina; Costa Coffee UK; Radiant; Gilbarco; AVA/Numay Peru; PetroLider Ecuador; Circle K Mexico; 7 Eleven Mexico; Rutter's USA; Mapco USA; NATSO; Iraq Oil Ministry; Consultoria Colombiana; NACS and MTK Russia.

Jeff has global fuels and convenience retailing experience spanning 4 decades and 50+ countries. Jeff's downstream energy/convenience industry experience has included a multitude of leadership positions across a wide variety of global markets. While working in corporate, his experience ranged from VP Business Development for a global retail design firm, to the executive position of Marketing Manager for a global fuels and convenience retailer, with responsibility for the Southern Hemisphere. In addition, Jeff led two USA downstream fuels/convenience, lubricant business units with organizational and P&L accountability as an executive for Mobil Oil.

During his Managing Director leadership of tmg, Jeff and his talented team have assisted in global expansion efforts of retailers, suppliers and trade associations. Jeff has provided strategic consulting services to fuels & convenience retailers around the world, guiding many diverse projects including M&A buy/sell-side successful transactions; Brand Development and Refresh; bricks and mortar Network Planning, as well as Marketing Plan creation, including consumer research and the ultimate value propositions. He has also provided advice on global, emerging marketing prioritization, economic modeling and market entry/expansion strategies.

Jeff is keenly active in his community as a mentor, and holds a Bachelor of Science degree in Management from Saint Joseph's University in Philadelphia, PA.

Jeff currently serves as an Advisor to the Fuels Institute Global Markets Committee.

Please see www.thinktmg.com for client projects and testimonials.