Jeff Murphy
Roberto Albån
Michele Lai Auerbach
Julie Sobelman
John Drummond
Rich Garretson
Mico Miller
Spiros Serpanos
Barry Shull
Alejandro Sanin

Spiros Serpanos
European Marketing, Retailing, Organizational Development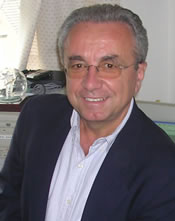 Spiros has more than 28 years of background in Senior International Marketing, Team development and management assignments in the fuels/convenience industry, enhanced with solid and practical field experience, gained in progressive positions with large global corporations.
He covered a broad range of markets, joined hands with many cultures and is multi-lingual.
His years of living in the Middle East have provided extensive knowledge and thorough understanding of the sensitivities and cultural issues affecting business in the Arabic world. He spent many years in Europe in local/regional jobs and special projects, while lengthy periods of work in Africa and central Asia further enhanced his understanding of front line multicultural team motivation and management. Spiros led teams in special investment and divestment projects, with very successful New Markets entries, and flawless Market exiting achievements.
His hard-earned experience has helped to develop outstanding negotiation, customer relations and Training skills, proven in the field with sales teams, Franchise Dealer Networks, Distributors, JV partners and major customers in very challenging economical, social and political circumstances, developing countries and emerging markets.
Through his international experience he developed solid consulting, training, mentoring and advisory skills, which he utilizes currently as a senior consultant, workshop facilitator and lecturer, based in Brussels, Belgium
"We have many initiatives underway which will improve our Franchise Business in the USA. TMG Consulting has been assisting in these efforts in a variety of ways including: industry best practice benchmarking; strategy development which will ultimately improve our franchisee recruiting, selection and training; as well as performing an Assessment process on new franchisees intended to assist new dealers and provide a feedback mechanism for our firm . TMG's keen understanding of global, operational & marketing best practices and their team of seasoned professional have proven to be instrumental in our continued drive to improve execution and overall retail results."