Jeff Murphy
Richard Abrams
Roberto Albån
Julie Sobelman
John Drummond
Rich Garretson
Mico Miller
Spiros Serpanos
Barry Shull
Bill Kennedy
Ricardo Perez
Alejandro Sanin


Ricardo Perez
Marketing, Retailing & Customer Services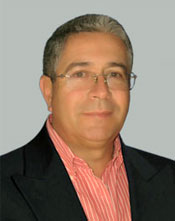 Ricardo has been actively involved throughout Latin America in the oil and gas industry gaining expertise in fuels, lubricants, convenience and TBAS. During his 30+ years industry experience, he has assisted clients develop and implement strategies in more than 25 different business areas in large and medium-size companies located in Colombia, Ecuador, Perú, Chile, Paraguay, México, Brazil and several countries in Central America.
His vast experience in Latin America enables him to contribute significantly to client development and optimization of existing and new business in fuels distribution, vehicular gas, lubricants, convenience & related services. Ricardo has hands-on experience in new market entries; retail network optimization; merger & acquisition valuation; competitive analysis and government regulatory processes.
Ricardo holds a degree in Economics from Universidad Complutense of Madrid; a degree in Business Administration from Universidad Politecnica of Madrid; a MBA in Marketing from ESEM (Escuela superior de estudios de Marketing in Madrid) & a specialization in Economic Policy from Universidad Complutense of Madrid. Ricardo is a visiting professor in different private and public universities in project evaluation area. Ricardo is fluent in Spanish/English and currently resides in Bogota, Colombia.
"On behalf of Consultoria Colombiana I wish to thank you for your cooperation in the learning and growth trip of our consulting team to the USA; it was very beneficial not only for the team but also for our FlexFuel, Ethanol project, therefore I believe that this experience will bring benefits for Colombia ensuring that the best decision is made by the government. We are happy of having made contact with you, and not only for this project, as we can now interchange ideas and businesses for other projects that are beneficial for both parties."